♥ ASSALAMUALAIKUM ♥
M
orning Everyone .. May you be happy today..When I open my blog this morning,there's a blog friends that invite me to join the Give Away segment of her.Not to disappoint this girl, I will join to support her..:)So kind of me..hahaha!!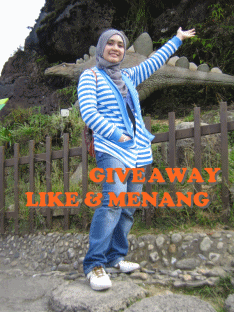 She made this GA because she needs more votes to win the contest at FB which she participated.So let us Like as many of her picca ..who know she might lucky to be choosen as the winner..:)
Prize per contest results by MyWrangler

IF she won 1st Prize:

100.00 to a winner chosen by random.org




IF she won the 2nd Prize:

30.00 for 2 winners

chosen by random.org




IF she wins 3rd Prize:

RM10.00 for 4 winner

chosen by random.org




IF Consolation or non-victorious:

Consolation prizes will be given for the two people chosen at random.org. (gifts may be gift items / money also .. will be notified later)
Click
HERE
for more details about this GA..
May she succeed and Goodluck!